SimpsonsNet Home > Simpsons video index
The Best of the Simpsons, Boxed Set 4 (1998)
This is the fourth and best boxed set of Simpsons episodes. Each of these gems, presented complete and uncut, hails from the Peabody- and Emmy Award-winning series' third season (1991-92).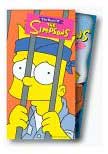 Starring: Simpsons
Format: Color, Animated, Closed-captioned, Box set, NTSC
Rated: NR
Studio: Twentieth Century Fox
Video Release Date: April 13, 1999
VHS Features: NTSC format (US and Canada only.)
Color, Animated, Closed-captioned, Box set, NTSC
Number of tapes: 3
From IMDb: Quotes & Trivia
ASIN: 6305320136
Check price @ amazon.com , amazon.co.uk , amazon.ca
Editorial Reviews
"It is not simply the best comedy on television, but almost certainly the best thing on television," proclaimed CNN's Jeff Greenfield about The Simpsons, prime-time TV's longest-running animated series. This is the fourth and best boxed set of Simpsons episodes. Each of these gems, presented complete and uncut, hails from the Peabody- and Emmy Award-winning series' third season (1991-92). Included is "Mr. Lisa Goes to Washington," in which Lisa's shattered faith in democracy is restored. "When Flanders Failed" has Homer cursing the new business enterprise (the Leftorium) of his next-door nemesis. Bart is a jolly goodfella in "Bart the Murderer," which features the voice of Joe Mantegna as the gangster Fat Tony. "Like Father, Like Clown" has guest voice Jackie Mason as Rabbi Krustofsky, the estranged father of Krusty the Clown; Bart and Lisa are determined to reconcile father and son with words of wisdom from the Old Testament and "Yes, I Can" by Sammy Davis Jr. The Simpsons scare up more laughs in "Treehouse of Horror II," one of the series' vaunted Halloween shows that features a parody of the Twilight Zone episode "It's a Good Life." Finally, to pay for "Lisa's Pony," Homer must moonlight at the Kwik-E-Mart. Each of the three volumes also contains an original Simpsons short from The Tracey Ullman Show. --Donald Liebenson
Customer Reviews
Great stuff-must have for the Simpsons Fan!!, August 25, 2001
Reviewer: Christina Sorenson from Arlington, Virginia United States
This is a fantastic boxed set!! I am a huge Simpsons fan, I own almost all of the boxed sets, and this is definitely one of my favorites. This one has a great mix of episodes. Volume 10 has "Mr. Lisa Goes to Washington." Lisa wins an essay contests and gets to compete in the national competition in Washington DC. While there, she finds out her congressman is corrupt and loses faith in the government and democracy. This episode is hilarious-you'll especially appreciate if you do or have ever lived in DC. The next episode is "When Flanders Failed." Ned chucks it all to start his beloved Leftorium, and Homer does all he can to prevent Ned from getting business. The Flanders' clan ends up losing their home and everything they own, which Homer buys for $20! This is a great early episode, essential to the history of Homer's animosity toward Flanders. Volume 11 has "Bart the Murder." Bart starts working for Fat Tony and the other Mafia guys, and ends up getting framed for Principal Skinner's murder! This episode is a must see, funny from begining to end. It's a great example of Simpsons humor, with lots of pop culture references. Next is "Like Father, Like Clown." Bart and Lisa try to reunite a distraught Krusty the Clown with his estranged rabbi father. This is great, you get to see where Krusty came from, and there are wonderful references to the Torah, Kabbalah, Bart even quotes famous rabbis and Sammy Davis, Jr. A super episode also for anyone who has studied Judaism-you'll really appreciate this one!! Volume 12 has "Treehouse of Horror II." This is part of the reason I like this boxed set-you not only get regular episodes, but older shows and a Halloween Special. Lisa, Bart, and Homer all have nightmares because they eat too much candy on Halloween. A reprise of Poe' "The Monkey's Paw," "The Twilight Zone," and "Frankenstein." The last episode is "Lisa'a Pony." Homer tries to buy Lisa's love with a pony, but the expense causes him to get a night job at the Kwik-E-Mart!! Overall, this is a great sampling of Simpsons episodes. Any avid fan will love it, and any casual watcher will find it hilarious!!
Best box set ever., July 29, 2000
Reviewer: Mike Reed from West Jordan, UT
This is a must-have for any Simpsons fan, whether you've seen all the episodes and know these 6 show's production-codes, or you're seeing them for the first time. Season 3 is still the best season, because of episodes like these. Tape One has "Mr. Lisa Goes To Washington", which is a good episode anytime, and is even better here, un-syndicated. "When Flanders Failed" is one of my favorites ever. "Bart The Murderer", well, what can I say? It's a classic! "Like Father, Like Clown" is okay, if sappy at times. "Treehouse Of Horror II" is my favorite Halloween episode ever! "Lisa's Pony" is a very funny episode too. Best to worst they are: 1. Bart The Murderer 2. Treehouse Of Horror II 3. When Flanders Failed 4. Lisa's Pony 5. Mr. Lisa Goes To Washington 6. Like Father, Like Clown
A CLASSIC SET OF VIDEOS, August 13, 2001
Reviewer: irmita from usa
Attention all Simpsons fans. This boxed set of videos includes some of the best Simpsons episodes ever created by Matt Groening. "Lisa's Pony" is hilarious since it depicts Homer's struggle to balance two jobs at once in order to help support the pony he bought Lisa in order to win her love back. He barely gets a wink of sleep. Another true favorite included here is "Bart the Murderer," which once again features the hilarious mobster, Fat Tony. Bart takes a job working for them and is soon blamed for Principal Skinner's disappearance and "murder." The episode where Lisa goes to Washington illustrates how Lisa's faith in democracy is diminished once she witnesses corrupt politicians plotting to embezzle money.
Hilarious, April 19, 2001
Reviewer: Andrea from Cardiff, South Glamorgan, Wales
The Simpsons is the greatest show on television as far as I'm concerned (but you already knew that). These boxed sets are great for any Simpsons fan or even just for someone who wants to be assured that their still is quality programming on television.
THE SIMPSONS, THE BEST OF...VOL'S.10,11,12, January 26, 2000
Reviewer: ROB WALKER(DJ KAPPA) from MEIR, S-O-T, STAFFS, ENGLAND
I live in England and am the best simpsons fan ever, and when I saw it in my local shop I had to buy it! The Tree House Of Horror II is great, what with the dreams and well Home he's a great "Homer In A Box!" Mr. Lisa Goes To Wasington is great too...and I think that she's so cute!At least Homers' not all bad in When Flanders Failed! But I felt I, really did for Lisa in Lisa's Pony. And it proves that Homer is a GOOD LOVING FATHER! Pooor Bart in Bart The Murder, the law is not a thing to play with! We find out about Krusty's father in Lake Father Like Clown! It was also great to finaly own some of THE SHORTS , which are funny! But The Simpsons family look alot better now! Thanks for your time and BUY THIS AND ALL THE SIMPSONS VIDEOS TAHT YOU CAN...DJ KAPPA...
The Best of The Simpsons Vol.10, 11+ 12, January 17, 2000
Reviewer: rOB wALKER from uk
I brought these videos from a shop in the uk. And it's soo cool. I'm the NO.1 SIMPSONS FAN! The videos are ace and the Shorts even better keep up the good work!
The Simpsons Are The Greatest TV Show On The Air, April 17, 1999
Reviewer: An Amazon.com Customer
The Simpsons are hilarious. They make you want to drop dead laughing. The funny charecters combined with exeptional writers push this video over the edge.