SimpsonsNet Home > Simpsons video index
The Best of The Simpsons, Boxed Set 1 (1990)
This is the very beginning of Matt Groening's masterful creation of the unique yellow-skinned family and their craziest adventures in the surburban fantasyland full of many different characters who come and go, each with his or her own colorful personality and background.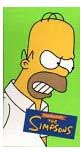 Starring: Simpsons
Format: Color, Closed-captioned, HiFi Sound, Animated, Box set, NTSC
Rated: NR
Studio: Twentieth Century Fox
Video Release Date: September 16, 1997
VHS Features: NTSC format (US and Canada only.)
Color, Closed-captioned, HiFi Sound, Animated, Box set, NTSC
Number of tapes: 3
From IMDb: Quotes & Trivia
ASIN: 6304561873
Check price @ amazon.com , amazon.co.uk , amazon.ca
Editorial Reviews
This boxed set contains six episodes of The Simpsons: "There's No Disgrace Like Home" (the Simpsons shock each other at a shrink's office); "Life on the Fast Lane" (Marge takes bowling lessons from--and nearly is seduced by--Albert Brooks as a French bowling pro); "Bart the General" (Bart plays Patton in his effort to beat bully Nelson Muntz); "Moaning Lisa" (Lisa's jazz hero, Bleeding Gums Murphy, is introduced); "The Crepes of Wrath" (Bart is a foreign-exchange student and winds up as a slave in France); and "Krusty Gets Busted" (Sideshow Bob frames Krusty the Clown for robbery in order to take over his show). --Marshall Fine
Customer Reviews
Good Uncut Early Simpsons Episodes +extras, February 13, 2001
Reviewer: Katrina Koski from Polvadera, NM United States
For Simpsons fans this set is worth the cost. Even if your local Fox network shows re-runs twice a day, these episodes are uncut, the origional full length show. The episodes included in this set are: No Disgrace Like Home, Life on the Fast Lane, Bart the General, Moaning Lisa, Crepes of Wrath, and Krusty gets Busted. The animation is a bit crude, which really makes me appreciate how well done the animation is done now. Also, on each tape there is a bonus origional Simpsons skit from the Tracy Ullman show. These are really cool, and almost impossible to find anywhere else. The animation is really horrible, it's hard for a modern Simpsons viewer to imagine this is how they got their start.

This set features some old characters that are not shown on the current shows (Dr. Marvin Monroe, Bleeding Gums Murphy). Also, it includes the first Bart versus Sideshow Bob (Kelsey Grammer) episode (Krusty Gets Busted). The Crepes of Wrath is classic early Simpsons, with Bart pining "I wish I was a Frog" right before his mother tells him he will be an exchange student in France (Frog = slang for French). Barts counterpart exchange student, who lives with the Simpsons is from Albania, and steals secrets from the nuclear power plant--a humerous reminder of the Cold War (it's good to remember these are pre end of the Cold War). The only weak episode in the set is Life on the Fast Lane, where Marge falls in love with a French Bowling pro Jacques (Albert Brooks).
OK, OK, LIKE CHAUCER, July 8, 2000
Reviewer: MIKE FEENEY CALLAN from DUBLIN, Ireland
It is impossible to single out a solitary episode - or boxed set - of The Simpsons without doing the series an injustice: in short, it should be consumed voraciously and whole, all 200 or so episodes! There are any numbers of keys to enjoyment and illumination here. Erroneously the show is often compared to its sixties predecessor, The Flinstones. In truth, it has far more in common with The Twilight Zone, Kraft Theater or The Honeymooners, revolutionary television of the fifties - all of which it mercilessly apes. The Simspons works on many levels, most cogently as adult social commentary, but it endures because its heart is affectionate and conciliatory, not - despite the jibes at racism, consumerism, feminism, plutocracy- cynical. Its development is a triumph, in face of the tide of network formula-mediocrity. Matt Groening's genius is surely human insight and perfectionism in equal measure. Since 1987, when it began as short throwaway inserts in the Tracy Ullman show, the Simpson nuclear family has grown to reflect the chaotic essence of modern man. Today, its issue-driven episodes are more potent and educational (for the attentive) than any Jenny Jones or Oprah. There is more. Dustin Hoffman has advised aspirant filmmakers on the best way of learning directing: turn down the volume on any movie and watch the camera shots. The Simpsons offers the Ultimate Encyclopaedia of Filmmaking. Watch the shot framing and camera moves. The animation design has as much narrative value as the ingenious stories themselves. Finally one must doff ones hat to all the animators and many story-makers, never forgetting the authorial input of the actors: of Dan Castellaneta (Homer, Grampa etc), Harry Shearer (Flanders, Burns etc), Yeardley Smith (Lisa), Nancy Cartwright (Bart), Julie Kavner (Marge etc), Hank Azaria. Troy McClure (Phil Hartman) is missed but not forgotten. In a century, The Simpsons will not be forgotten. It's not Chaucer but ... well, OK, OK ... okeley-dokeley-do, it's close!
boaf rap, January 16, 2003
Reviewer: Charlotte McGee from Winnetka, IL United States
boaf boaf stallion boaf please don't shine that light in my eyes boaf slaughter boff cakes and sausage boaf taco and bru haha.

Jashua come say hello to your mother.
The Best of the Simpsons: Boxed Set 1, September 21, 2001
Reviewer: fastboyblp from Colorado
Yes, if you are a died-in-the-wool Simpsons fan like I am, then you definitely need this product. Not only do I recommend it because it's hilarious, but it comes with lots of interested facts on the Simpsons inside of the box. But, just because I'm totally crazed about the Simpsons, I'd say something like that, but anyway, if you are a die-hard Simpsons fan, you must get this set now!
Good, but maybe not the best, August 11, 2001
Reviewer: A viewer from Misenheimer, NC USA
If you're a true blue (or yellow) SIMPSONS fan (like me) then you'll have to get this set just to be complete. However I think the show was funnier after they got the dog and Homer got stupider and less angry. If you feel the same way you might want to consider volumes 2, 3, and 4. Still and all this ain't a bad deal. I like "There's No Disgrace Like Home" (Homer: "When will I learn? The answers to life's problems aren't at the bottom of a bottle . . . They're on T.V.!")
Don't let anyone tell you different., May 22, 2001
Reviewer: keith-artist from PA, USA
Trevose, PA United States

Nothing I can say that has't been said. The Simpsons is brilliant on so many levels - the writing, the characters, the social commentary, Marge's big, blue hair - you name it. Anyway, it's longevity as a TV series serves to cement the notion that this is one of the best comedies - animated or not - ever. Don't let anyone tell you different.
i got a dad he should live in a zoo., January 31, 2001
Reviewer: John Frink from Weston, CT United States
i like MOANING LISA/BART THE GENARAL because we know that bleading gums died 7 seasons ago. Also dr marvin monroe died. between those times lisa and bleading gums havent met.If you didnt know last year Maude Flanders fell of bleachers, got hit by a race car and died!Poor Ned Flanders lives alone now with Rod and Tod. Also there is one other person who had died over the seasons Frank Grimes. A rude man and while mimicking Homer he ate high voltage,got shocked and died. Homer was very happy and didnt care. well did you know that Nelsons friends are 21 years old. They were to stupid. like it? or as nelson would say HA HA! So thats it. till next time... so long. adu. adios. goodbye. see you soon. sneeze. nra forever. auld lang syne. all together now. got to hide your love away. penny lane. eat. enjoy dinner. good night.
OK, OK, OK, LIKE CHAUCER, June 9, 2000
Reviewer: MIKE FEENEY CALLAN from DUBLIN, Ireland
The Simpsons will be seen in a hundred - a thousand - years, as emblematic of the best of American television of the twentieth century. Matt Groening's creation supercedes all animation rivals, utilizing the form to express the surreal truths of family life, of dysfunctional reality, of the American Dream. The Simpsons is often associated with the Flintstones, the counter-Disney hit animation series of the revolutionary Sixties, but in fact it has much more in common with the vision of The Honeymooners of the Fifties, or the anarchic moods of the Kraft Theater or The Twilight Zone - all of which it remorselessly parodies. If it has a weakness, it is the obviousness of its homages and references. Compositionally it steals weekly from Hitch, from Scorcese, from Tarantino, from John Doe. But that in itself is a wry commentary on the vomitory excesses of our pop-drenched society. In short, The Simpsons is TRUE. It seems, well, chronically uroscopic ... but its depictions of suburban prejudice, lethargy and threat are cautionary markers for our times. Groening deserves more credit than the corporate-Emmys allow (The Simpsons has won many): his observation of the dark side of our bloated Somatized culture is nothing short of Nobel class. I recommend this three-episode volume as a sampler of the whole. This dates from the early (early Nineties) era. As it developed, the series became more graceful and precise. In this set is mocks us: by 1999 it skewers us. Thank you, Matt Groening, Dan Castellaneta (Homer, among many roles - and a genius), Nancy Cartwright (Bart), Yeardley Smith (the wondrous oracle Lisa), Julie Kavner, Hank Azaria, Harry Shearer et al. And also (can we forget him?) in loving memory of the greatly gifted Phil Hartman (Troy McClure). Oh, and those many, many, many dedicated animators ...
THE Best Show Ever, May 4, 2000
Reviewer: A. Davidson from Seattle
If you ever find yourself doubting that The Simpsons is the best show ever, I want you to hit yourself. This boxed set is the beginning of the best show to ever grace the television screen. It is a must have for any true Simpsons fan.
Welcome to the wacky world of the Simpsons!, April 9, 2000
Reviewer: tsuba-hi from Sacramento, California United States
This is the very beginning of Matt Groening's masterful creation of the unique yellow-skinned family and their craziest adventures in the surburban fantasyland full of many different characters who come and go, each with his or her own colorful personality and background. Once a rather anonymous tabolid cartoonist, Matt Groening had accelerated rather rapidly to superstardom over ten years with his famous cartoon family and now he is producing a snappy new science fiction series called "Futurama", which would be looking up with a bright future as well! So - long live the Simpsons and the Futurama!